Tishia
has given me this lovely award...thank you so much sweetie!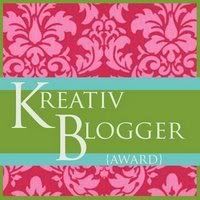 The rules are simple, and before I pass this on, I must list 7 things that I love.
1. God (first and foremost)
2. My wonderful husband and my precious children
3. My nightowls..you know who you are heehe
4. Designing
5. PARIS HILTON
6. DALE JR
7. pepsi..and chocolate LOL..a hard call since I love them both
Now my lucky kreative winners are...

Off to spread the kreativity :) ... be back soon ...xoxo K