That's right..no, I haven't lost my mind lol. Dale Earnhardt Jr did in fact come to me in a box the other day. Now before you decide you want to call the men in straight jackets let me eloborate.
Melanie
and her sweet self decided to send the man himself (well not in person..a girl can dream though) in a care package to my doorstep. Beings that me and the "little man" are HUGE fans as she herself is, I decided to allow Gabe to discover the contents...
Now he picked his favorite..the major chocolate junkie he is..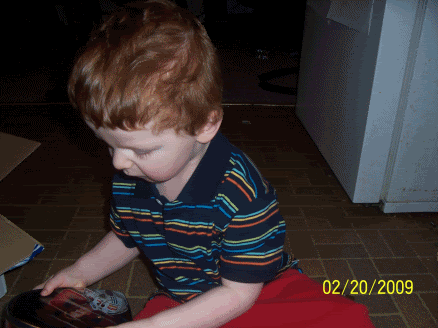 to which I had to chase him down all over the house to his squealing delight that that was his Dale candy and not mine. I did manage to retrieve it with some convincing that Mama would share.
Thanks again

Mel

..we love ya :)
AWARD TIME!
I have recieved 2 awards that I need to pass along.
The first one I recieved from
Sarah
and
Leaonna
..these ladies are awesome! They both are so talented and give so much to the scrapping communities..thank you both so very much. Please drop by and pay them a visit, you'll be glad you did :)
Here are the Rules:
• Display the image of the stamp "Look How Cool Blog" you just won!
• Post the blog link you provided.
• Indicate your choice of 10 blogs.
• Let them know.
• Post the rules.
• Check if the blogs post the prize and followed the rules..
The second award I recieved from
Michelle
. This girl can script! I am so tickled for her as she just opened a new store recently
here
. Thanks so much sweetie and best of luck on your new ventures!
This is a great award to have because it is not just sharing links but sharing friendships between fellow bloggers. I am to pass this award on to eight other people and here are the people that I choose to send it to.
Now I didn't just come with personals and awards lol..since you survived alllllllll of that..here is your freebie today, and it's commercial use! Click the image to download. Until next time..xoxo K