First off, I want to say Happy Father's Day to all the daddies out there as well as the dad's to be and the granddads :)
Today I will send my Father's Day wishes heaven bound as I lost my dad 3 years ago this past April. I was and still in my heart will always be daddy's little girl. I truly miss him..Daddy I love you..Happy Daddy's Day. Here is a layout I did in his memory...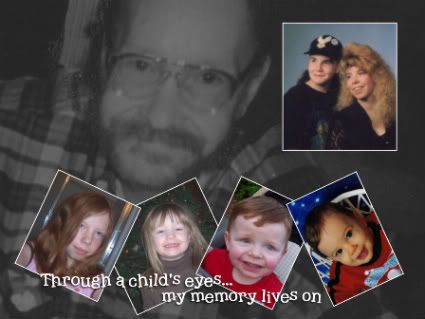 Clockwise...Me and my brother, my nephew Issac, (my children) Gabe, Sydney & Summer
And wishing my husband a Happy Father's Day as well...our children are sooo blessed to have a WONDERFUL daddy..we love you honey!
And of course..HAPPY ANNIVERSARY BOO :)..6 years ago today I married my best friend, my knight in shining armor. I love you more than words could ever say :)
For all my readers..have a blessed Father's day..
xoxo K
Post race...CONGRATULATIONS DALE JR!!! THE STREAK IS OVER :)