Been a very very BUSY week here, with the grand opening on Friday of
Creative Scraps
and then on Saturday I was asked to design at
Berry Bliss
! Wooooohooooo..and guess what? We are having a
DESIGNER CALL
..take a look :)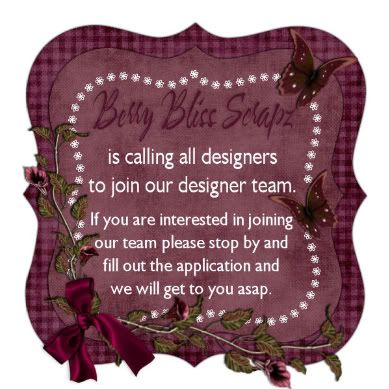 If you would like to apply, just head on over to
Berry Bliss Scrapz,
and go to
GET MORE DETAILS
and apply today :) We've love to have you join us!
Next on my list..
I'VE BEEN TAGGED
by
Shilo
and
Bonnie
These are the rules:
1. Link your tagger and list these rules on your blog.
2. Share 7 facts about yourself on your blog, some random, some weird.
3. Tag 7 people at the end of your post by leaving their names as well as links to their blogs.
4. Let them know they have been tagged by leaving a comment on their blog.

My 7 Random Facts

1. I hate cabinet or closet doors left open, I think I have OCD about it. I like them CLOSED if not in use..just drives me bonkers!

2. Two of my favorite scents in the world are new crayons and laundry fresh from outside.

3. I am right handed, my oldest DD can write with both.

4. When I was 12, I skated for 12 hours straight to raise money for the ARC (The Association for Retarded Citizens)..I did this again when I was 13.

5. I used to be addicted to EBAY however the digiworld took care of that addiction quickly (in Michelle's word..THANK GOD LOL)

6. Of all the places I want to see before I die, I would love to visit Paris (the city, not Ms. Hilton BUT HEY I WOULD LOVE TO DO THAT TOO LOL).

7. I love Harry Potter (NO COMMENTS ZEE)
And the
LUCKY 7
today are the ladies from Creative Scraps..
Krista
Dana
Nicole
Danielle
Sarah
Lioness3
Maritza
Now that you've all been very patient readers :)
Here is your freebie for today courtsey of Zee..there were requests after the girl set she sent so here is the boy version..click the image to download.
xoxo K